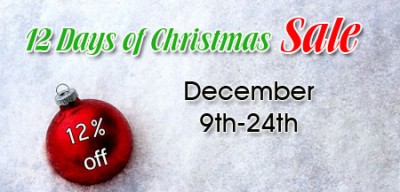 Our 12 Days of Christmas Sale is starting today at https://www.truxes.com/! 12% off a new category every day!
Tuesday, December 9th: Jamb Plates
Wednesday, December 10th: In Case of Fire Signage
Thursday, December 11th: Certificate Frames
Friday, December 12th: Elevator Identification
Monday, December 15th: Elevator Fire & Emergency Signage
Tuesday, December 16th: Data Code Tags
Wednesday, December 17th: Car Stations
Thursday, December 18th: Elevator Maintenance Signage
Friday, December 19th: Elevator Capacity Plates
Monday, December 22nd: No Smoking Signage
Tuesday, December 23rd: Escalator Signage
Wednesday, December 24th: Freight Elevator Capacity Plates
Happy Holidays!